Home Energy Score
When you are looking for a new home to purchase, the size, location, amenities, and utility costs are all something that you may consider before making an offer. This is where The Home Energy Score Report comes in, providing you with a baseline of a home's energy efficiency and other valuable information. A Home Energy Score (HES) provides you a snapshot of the estimated energy efficiency of the home, just like the MPG sticker lets you know the fuel economy of a car. The energy efficiency of a home may not be the primary factor in your decision making, but it will give you an idea of what can be improved in the home to increase your comfort and reduce your energy consumption.
The Home Energy Score Report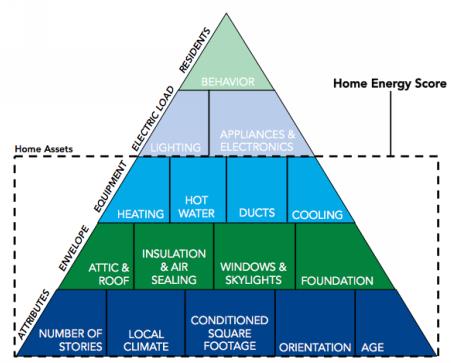 The HES is an asset-based rating of a home's efficiency. An asset rating quantifies the energy efficiency of a building based solely upon specific components of the house. The DOE model captures data on insulation levels and heating equipment efficiencies, but does not take into account thermostat settings, appliances, or plug loads because the energy used to operate these components can vary widely depending on occupant behavior.
The way the Scoring Tool defines "home assets" for a Home Energy Score is shown in the Home Energy Pyramid. An asset score allows homes to be compared on an "apples to apples" basis because it compares houses to one another based on their assets and not how occupants operate the houses. The Home Energy Scoring Tool assesses the effect of changes in a home's assets, while the occupant-dependent factors and behaviors are assumed to be a constant.
City of Portland Home Energy Score
The Portland HES is slightly different from the standard USDOE report. This custom report uses the City of Portland average utility rates as opposed to statewide averages. When I complete the report, it is posted to the Green Building Registry where it is accessible to interested parties. The Home Energy Report should be made easily available to potential home buyers. It is linked to a home's RMLS listing automatically. If an upload is possible, include the full report. If not, include a link to the report from the Green Building Registry. In either case, place hard copy print-outs of the report in a location in the house where buyers will see it.
Get the Best Score that you can!
Get a free infrared insulation check to help boost your score by 10%.
We do not do energy upgrades, so we can give unbiased scores.
Calculations for vaulted ceilings, converted attics, and multiple roofs can take over an hour, with a single mistake dropping your score significantly. Our custom-built DOE approved software ensures we get it right every time.
We provide itemized cost breakdown of each suggested upgrade (not included in the City of Portland Home Energy Scores) so you have negotiating power in marketing and transactions. The least expensive upgrades (sealing ducting or adding insulation) save twice as much energy as the most expensive upgrades (replacing a heater or windows).
We use an infrared camera to find air leaks and missing insulation in the home. The report will include infrared pictures of the inside and outside of the home as weather and conditions permit. We also provide resources on how to seal the leaks yourself.
Click Below to Schedule your Home Energy Score
Don't see a time that works? Call or text 503-893-8468
There may be an appointment available that isn't showing up on our calendar.
Additional Inspections
Home Inspection – Our Home Inspections are different! Our inspection begins before we ever set foot on your property. Read more here.
Thermal Imaging – Thermal Imaging is included with every home inspection here at Clear Vision Home Inspections. If you suspect a problem in your home or one that you are purchasing, it can be purchased as a stand-alone inspection. Read more about Thermal Imaging here.
Sewer Scope – Obtaining a sewer scope or sewer inspection can be one of the most cost effective ways to prevent unnecessary future expenses for a new home owner. Read more here. A sewer scope can be added to any home inspection for $100.
Radon Monitoring – Radon monitoring is recommended by the EPA for every home. Luckily it is inexpensive and easy to complete during your home's inspection period. Read more here. Radon monitoring can be added to any home inspection for $125.